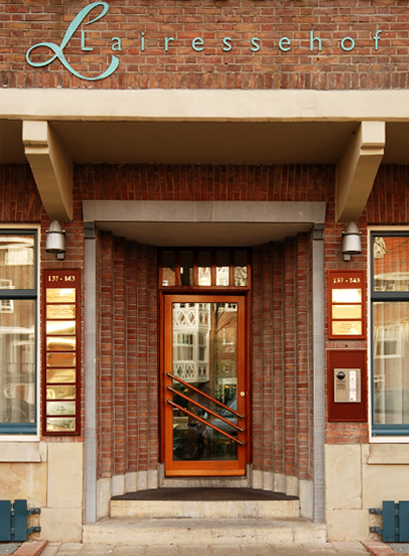 DE JONG GROEP
PHOTOS
THE LAIRESSEHOF
Built in the 1920s, Lairessehof essentially consists of a series of semi-detached office villas with a total facade length of over 64 metres. The total lettable surface area amounts to approximately 3,800 m2.
Lairessehof has been stylishly renovated using high-quality materials, based on the design of the renowned firm of architects Veenendaal Bocanet & Partners, which has ample experience in designing historical and classical villas in Amsterdam South. The basic aim was to render Lairessehof suitable for use by the demanding modern office user, while respecting authenticity and an eye for detail.
ENTRANCE
The entrance and facilities have marble floors and smoothly plastered walls. The special finish in the new central reception area is evidence of the high quality of the alterations that have been made. The well-considered use of glass offers unexpected views to spacious offices and the beautiful garden behind them. Different stylishly renovated conference rooms and other rooms on the ground floor have floor-to-ceiling, shatterproof glass doors leading to the hallway.

Lairessehof has a generous garden measuring some 70 by 15 metres, where future users can find space and quiet in the heart of the city.
THE FLOORS

Accessible by two lifts and three stairwells, the three floors consist of elegant offices of various dimensions. One of the lifts offers access to the basement which is more than suitable for use as an archive or a bicycle shed, for example.

Each floor has various kitchenettes and luxurious sanitary facilities. Here too, detail and finishing have been given a lot of attention and only high-quality materials have been used.
THE OFFICES
A beautiful facade provides access to lovely high and surprisingly light offices. The many windows provide a view of the historical De Lairessestraat and the sunny garden.